Implementation within 24 hours after ordering
Digital production to solve shortage of skilled workers
Optimizing machine performance and operational processes by supporting plant operators and technicians with the help of machine data and AI-based step-by-step instructions.










Challenges of producing companies

Increasing complexity of the plant
Increasing demands on efficiency and product variety increase the complexity of production plants. This leads to higher demands on the know-how and qualifications of the operators.

Lack of qualified staff
Due to the economic situation, it is difficult to find qualified personnel for your company. This can lead to bottlenecks in production, longer waiting times for customers and lower quality.

Loss of know-how due to fluctuation
Inefficient and processes and high costs due to the irretrievable loss of valuable know-how. Driven by increasing fluctuation due to demographic change and the global market.

Language barrier among employees in production
Due to increasing globalization, more and more different languages are spoken in the workplace. This leads to misunderstandings and problems in communication, which encourages errors, inefficiency, quality defects and security risks.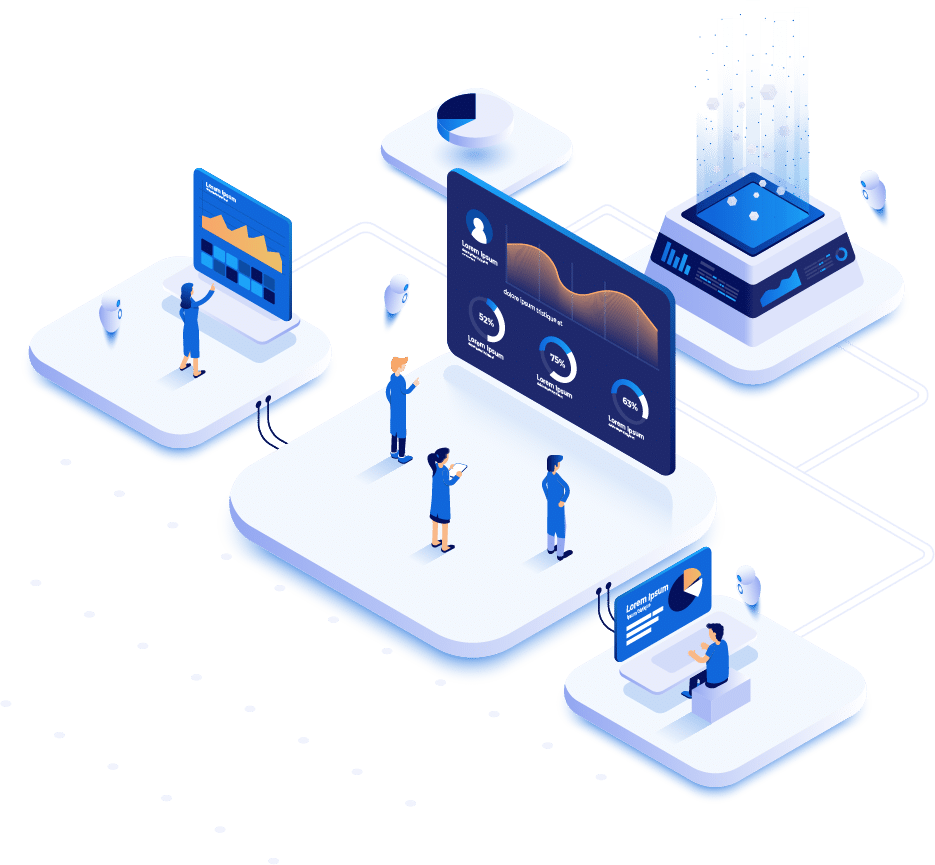 Optimum support for plant operators and technicians
In order to cope with contemporary challenges, OperAID supports, among other things, with proactive, AI-based step-by-step instructions to ensure efficiency and quality despite all adversities. We ensure that all your production processes run optimally, such as set-up, troubleshooting, continuous improvement measures and quality controls.
Safe and efficient processes
Easy to use: overcome language barriers
Clear and transparent allocation of tasks
Customers in 7 countries on 3 continents
More than 4 billion parts per year produced with our help.
More than 60 PLCs connected worldwide
Our modular solution portfolio suitable for your use case
With our modular software, we cover the interests of all stakeholders in production - from plant operators to management - and at the same time avoid overtooling in your company.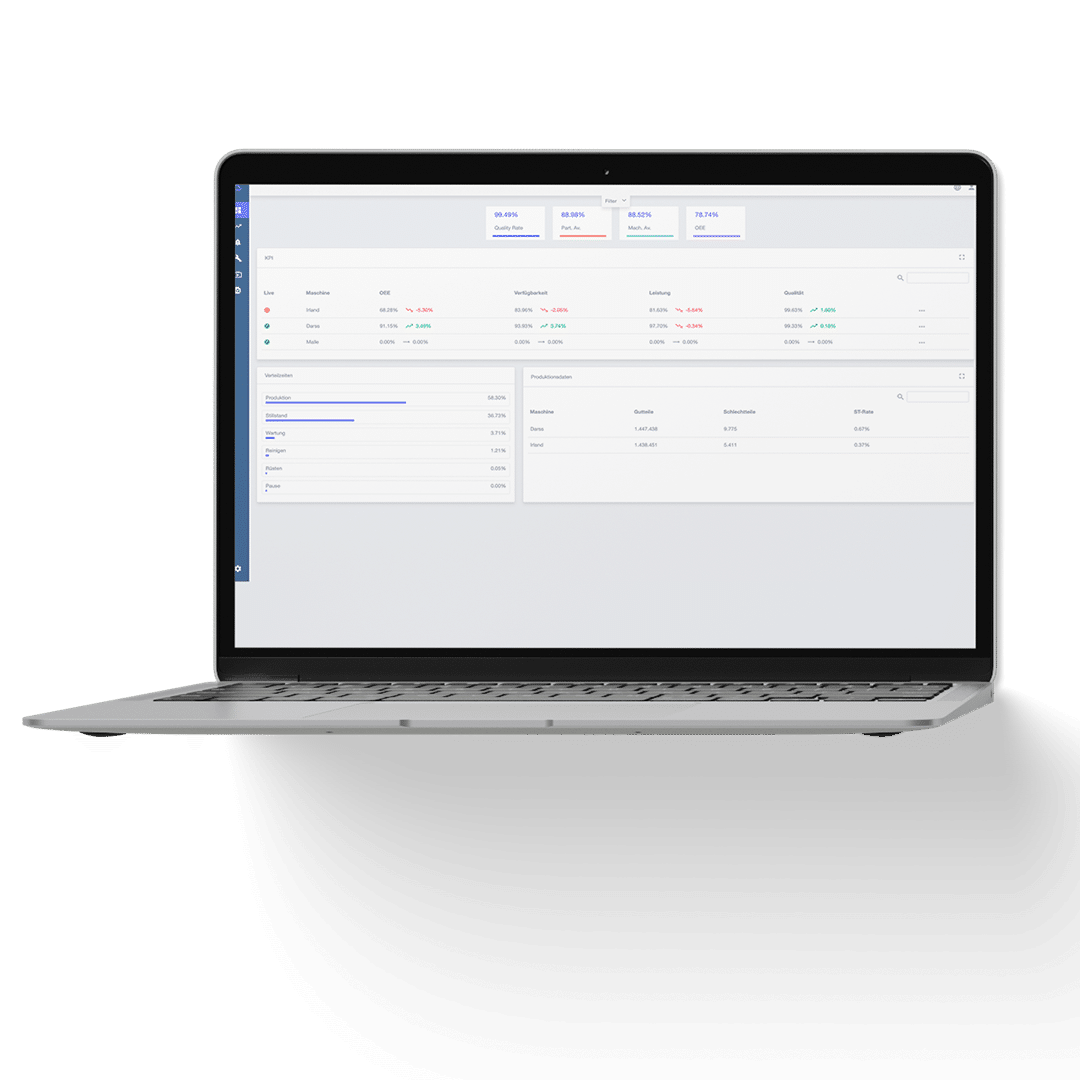 Our OEE reporting module offers real-time monitoring and analysis of important KPIs such as OEE, quality, availability and performance of individual machines and the entire plant. It enables quick identification of resource guzzlers and potential for optimizing your production.
The easy-to-use solution provides comprehensive insights into your production processes and generates reports to visualize and share plant performance.
Optimize your production processes with our OEE reporting module and increase the efficiency and productivity of your production.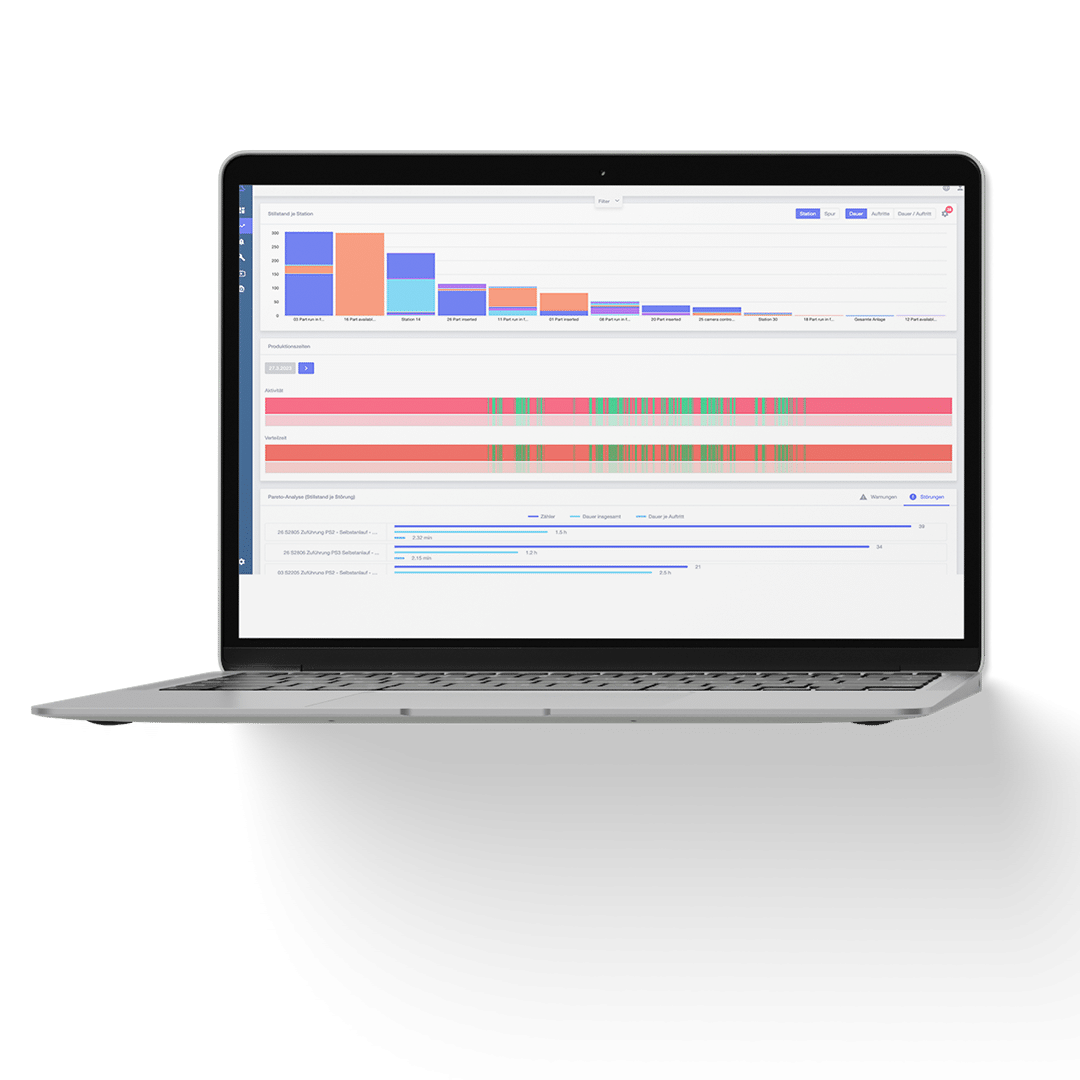 Our downtime analysis module shows you the causes of production downtimes according to the Pareto principle in a simple and effective way. The software not only takes into account the individual stations, but also the production tracks/nests of your systems and each sensor. Thanks to this comprehensive analysis, you can quickly identify potential problems and significantly reduce the mean time to repair (MTTR). At the same time, you significantly improve your reaction times and increase the efficiency of your production by being able to produce with fewer interruptions.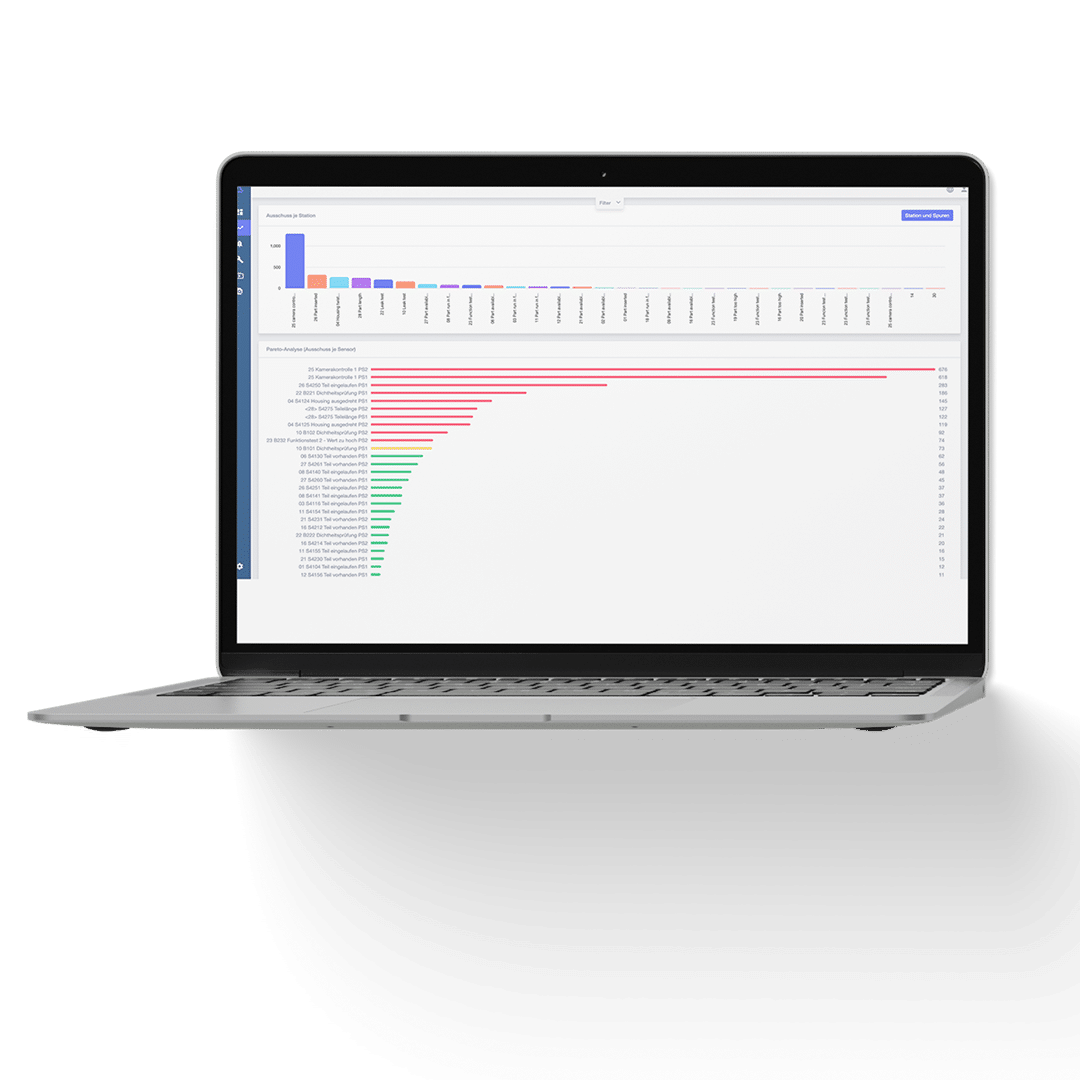 Compare rejects from stations, sensors, tracks and nests to enable precise identification of weak points in your production process. Based on the Pareto principle, it is sorted by importance to always focus on what is most important and reduce waste according to the Toyota production system. Reject trends help to identify potential influences such as sunlight on vision sensors, material and batch influences as well as storage and temperature fluctuations in semi-finished products at an early stage so that countermeasures can be taken. Increase the quality in your production process, minimize quality risks and lower your production costs.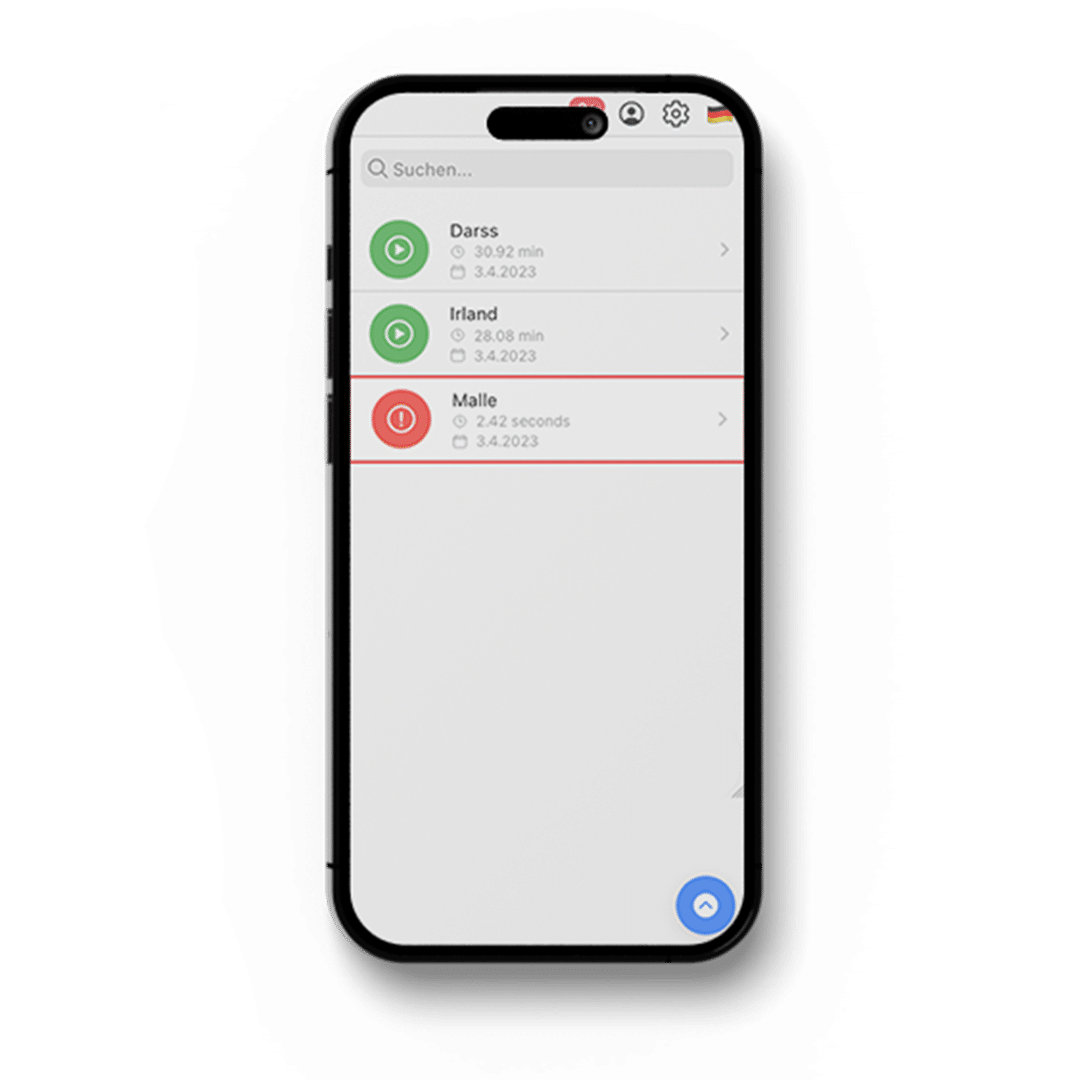 The "Live Monitoring" in our software enables you to efficiently monitor your production facilities in real time. The fast feedback gives you immediate notification and support in case of errors. This enables a faster reaction and high-quality measures by the workers. Furthermore, the efficiency in your company can be sustainably increased and productivity can be optimized through reduced walking and communication paths. With "Live Monitoring" you have all important information at a glance and can intervene immediately to improve your production processes in real time.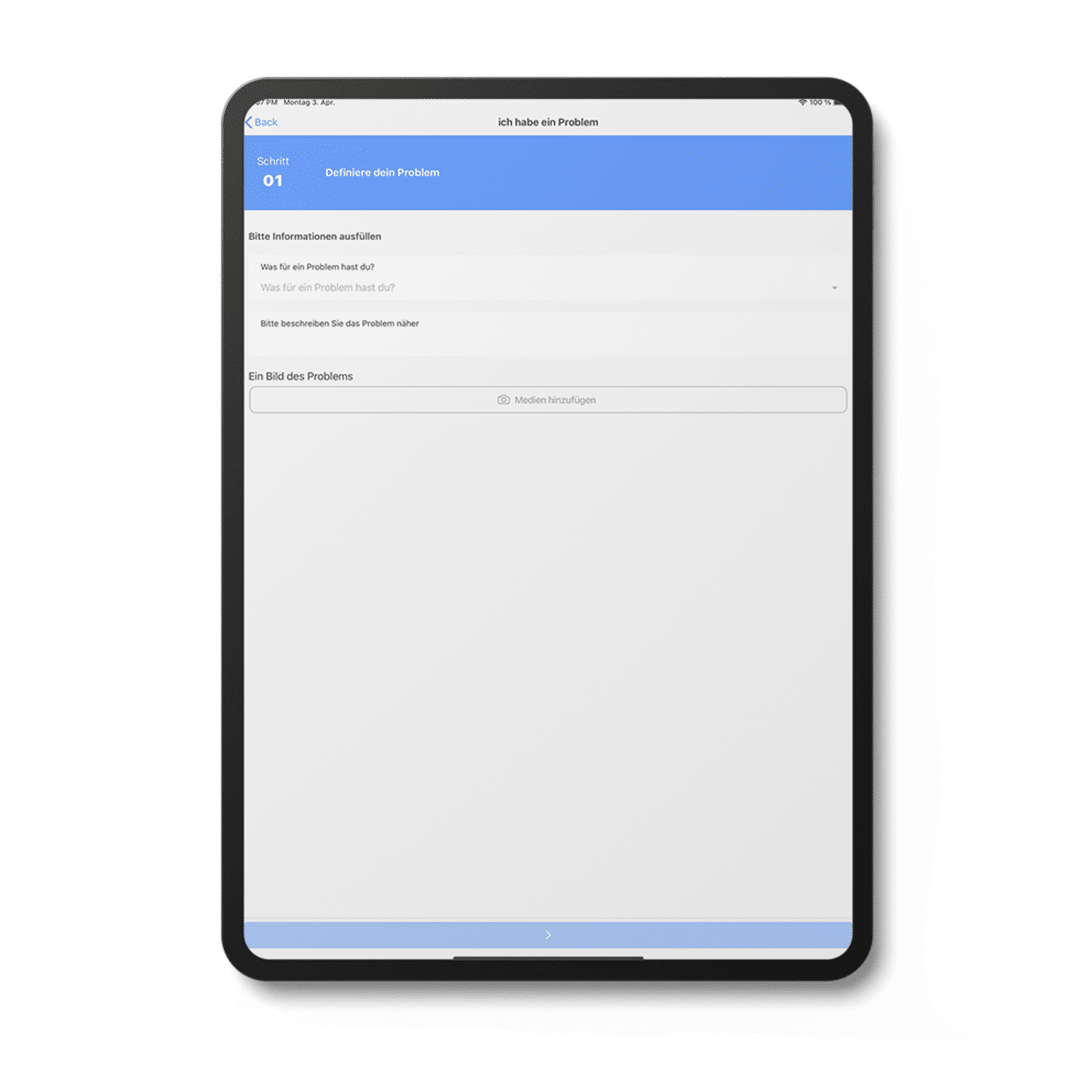 This module provides all the tools for optimal control and analysis of all processes in your production. With just a few clicks, you can map any process and thus offer extensive support for your employees (e.g. when setting up, troubleshooting, changing foils, quality checks, camera settings, the procurement of semi-materials, ...). The assignment of tasks at the right time to the right people in the company leads to drastically reduced communication and walking distances as well as significantly more efficient processes. The digital process twin also offers an objective analysis to identify potential for improvement in your processes: Where is there a need for training? Why are semi-finished products missing? Where are there problems with packaging and transport? Automatic translation into over 160 target languages breaks down language barriers and promotes seamless collaboration between employees worldwide. Collecting and applying knowledge digitally in the form of workflows promotes the standardization of production sites and significantly simplifies growth.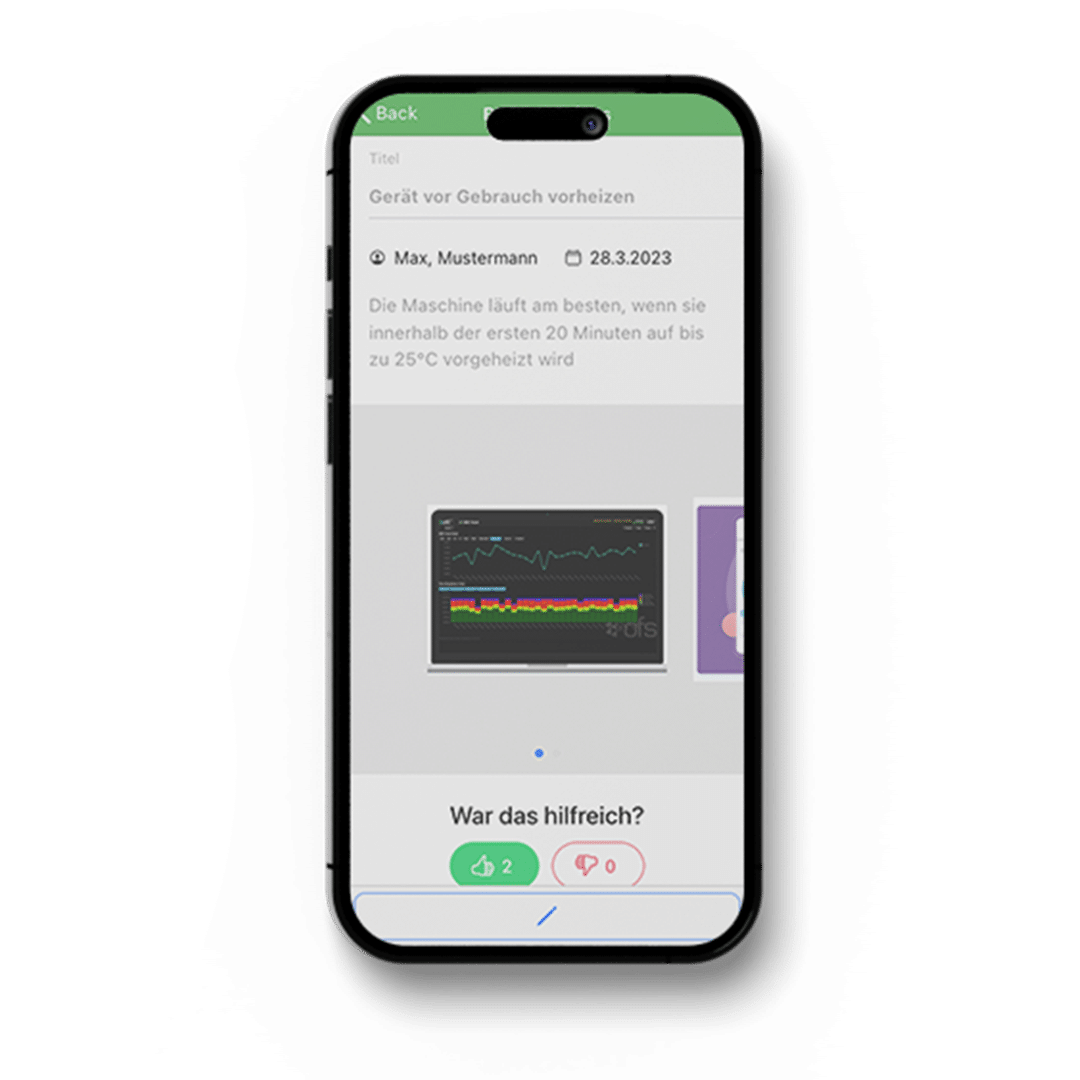 The cheat sheet for your plant operators! What tips and tricks are there for my system to be able to operate it optimally? With "Best Practices" you enable your machine operators to easily collect and document best practices and tips for using systems and make them available to everyone. A rating system for the entries automatically ensures that your best practices are prioritized optimally. In addition to reduced training times, this collection of knowledge also increases the efficiency and productivity of your company. How? By avoiding delays and downtime caused by ineffective or incorrect use of equipment. The standardized use of the systems also makes it easier to comply with regulations and standards, and increases the reliability and safety of the systems, since every employee knows exactly how to operate their system in the best possible way. This module is the ideal solution for companies that want to use their facilities more effectively and safely. Benefit from the knowledge of your employees!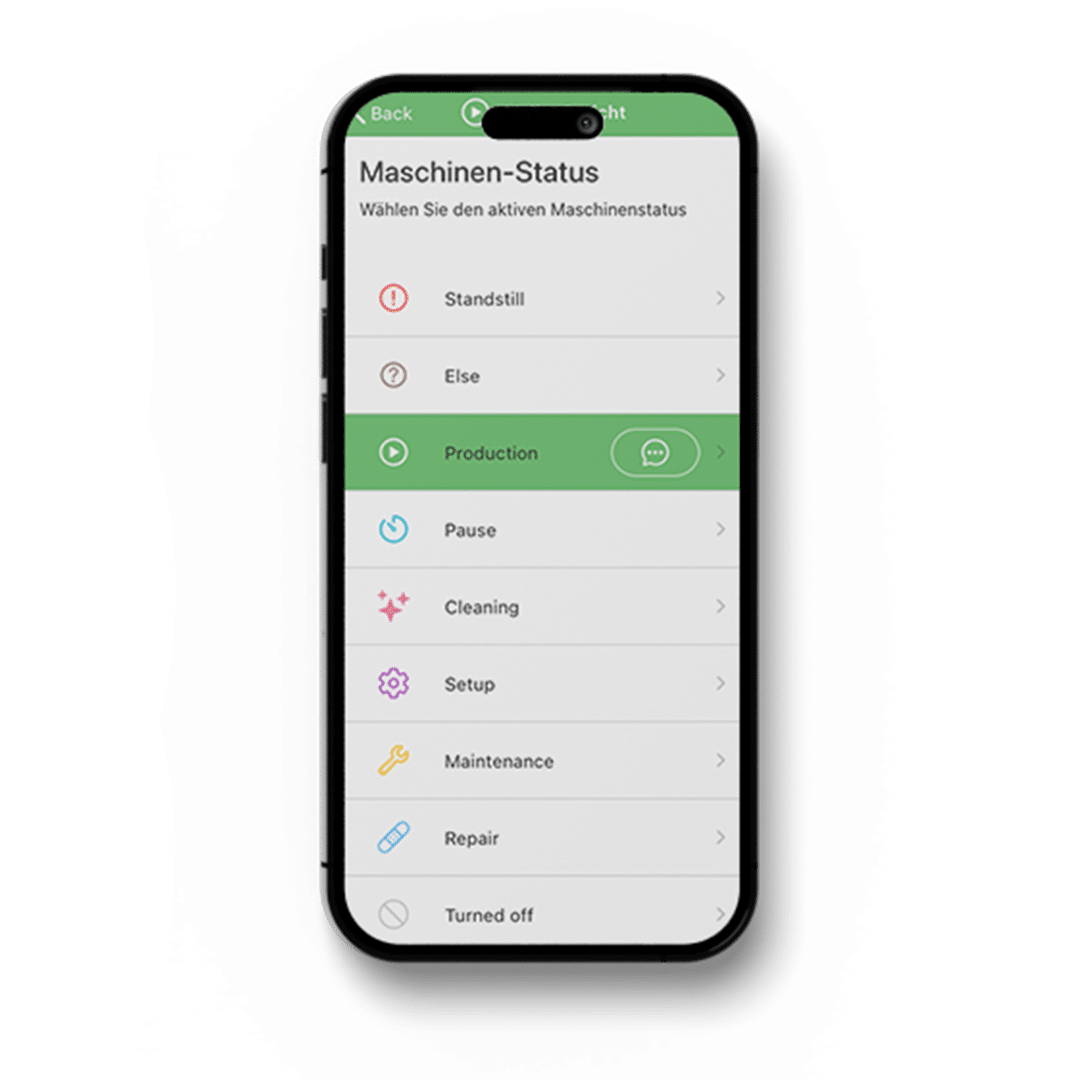 This module allows plant operators to quickly and easily report information about their machine. Thanks to the use of icons, colors, images, videos and automatic translations, language barriers are overcome, ensuring seamless communication between all employees. The user-friendly collection of operational data such as current problems or suggestions for improvement makes the maintenance and optimization of your production line much easier. Digital reporting leads to a reduction in communication and walking distances as well as shorter reaction times to unforeseen disruptions, which increases the availability and efficiency of your machines. Collect the knowledge of your employees to be able to react quickly and learn from it.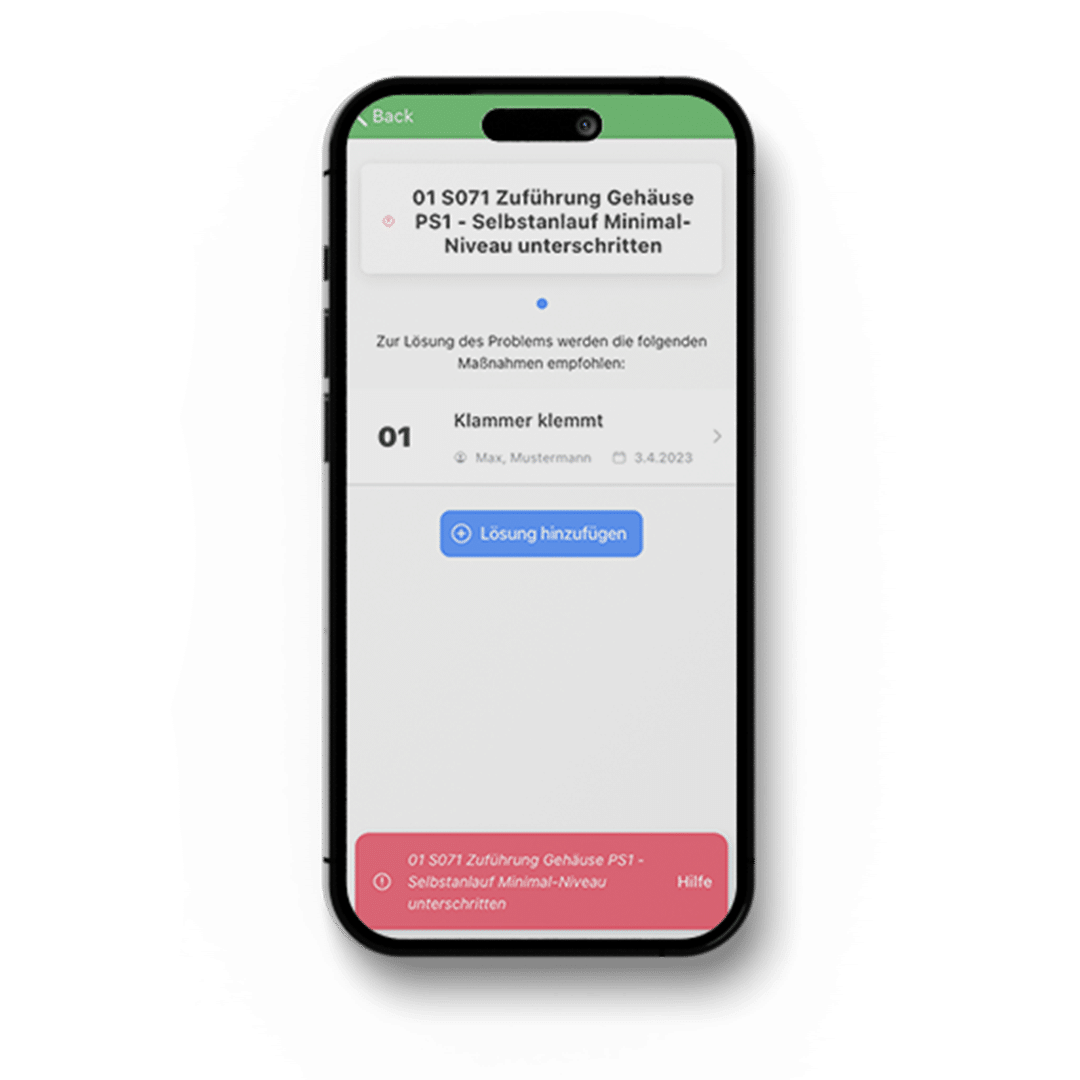 Our latest software module "Troubleshooting" provides plant operators and technicians with comprehensive support when it comes to overcoming faults. With our automatic and proactive recommended measures, users are optimally supported and receive precise instructions without having to take the initiative themselves. Our AI uses valuable historical data to identify and suggest the most promising measures. The system learns continuously based on user feedback and the success of the implemented measures. With "Troubleshooting" you have a powerful tool at hand to quickly identify and eliminate faults. Streamline your operations and minimize downtime.
Excellence in the company - not in the person

+30% faster troubleshooting
Less time for troubleshooting and analysis through alarms and proactive, AI-based recommended measures.

+30% faster communication
By solving language barriers and using digital shop floor processes for task distribution.

+15 % capacity of skilled workers
Instructions on how to enable less qualified employees to take on more demanding tasks to relieve your specialists.

+26% faster onboarding time
Reduction of training times through on-demand instructions to welcome new staff cheaper and faster as value-adding team members
Find out how OperAID can support your production!
Let us evaluate together in a short conversation how we can help you to achieve your goals as quickly as possible.
What others say about OperAID
By implementing the software before FAT, we collect knowledge about operating the systems, which we can pass on to our customers with acceptance. As a result, our customers can produce more efficiently and there are fewer service calls due to incorrect operation and maintenance.
OperAID coordinates machine-related processes seamlessly and effectively - from quality control and maintenance to efficiency analyzes and reporting. Thanks to OperAID, we can drastically reduce the use of operators and technicians and thereby achieve a noticeable competitive advantage in the global market.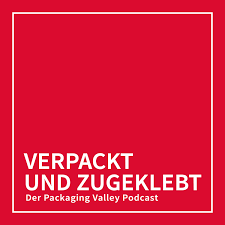 VERPACKT UND ZUGEKLEBT - Podcast episode with operAID
The episode with OperAID is about how production machines can be given digital doping and where the added value of machine data lies. Furthermore, we discuss what influence plant operators and technicians have on the efficiency of plants and how they can be optimally supported. In addition, it is about the entry hurdle in data-driven production and how companies can benefit from this trend. And much more!
Can my company benefit from OperAID?
The focus of our solution lies in the production of multi-part goods. This primarily means productions with assembly or packaging systems, injection molding machines and comparable productions. However, we are always interested in discovering new potential and developing ourselves further.











Let us evaluate in a short conversation how we can help you achieve your goals as quickly as possible.
We look forward to getting to know you better!
[borlabs-cookie id="calendly" type="content-blocker"] [/borlabs-cookie]
LEAD Digitalisation GmbH
Fabrikstraße 33
73650 Winterbach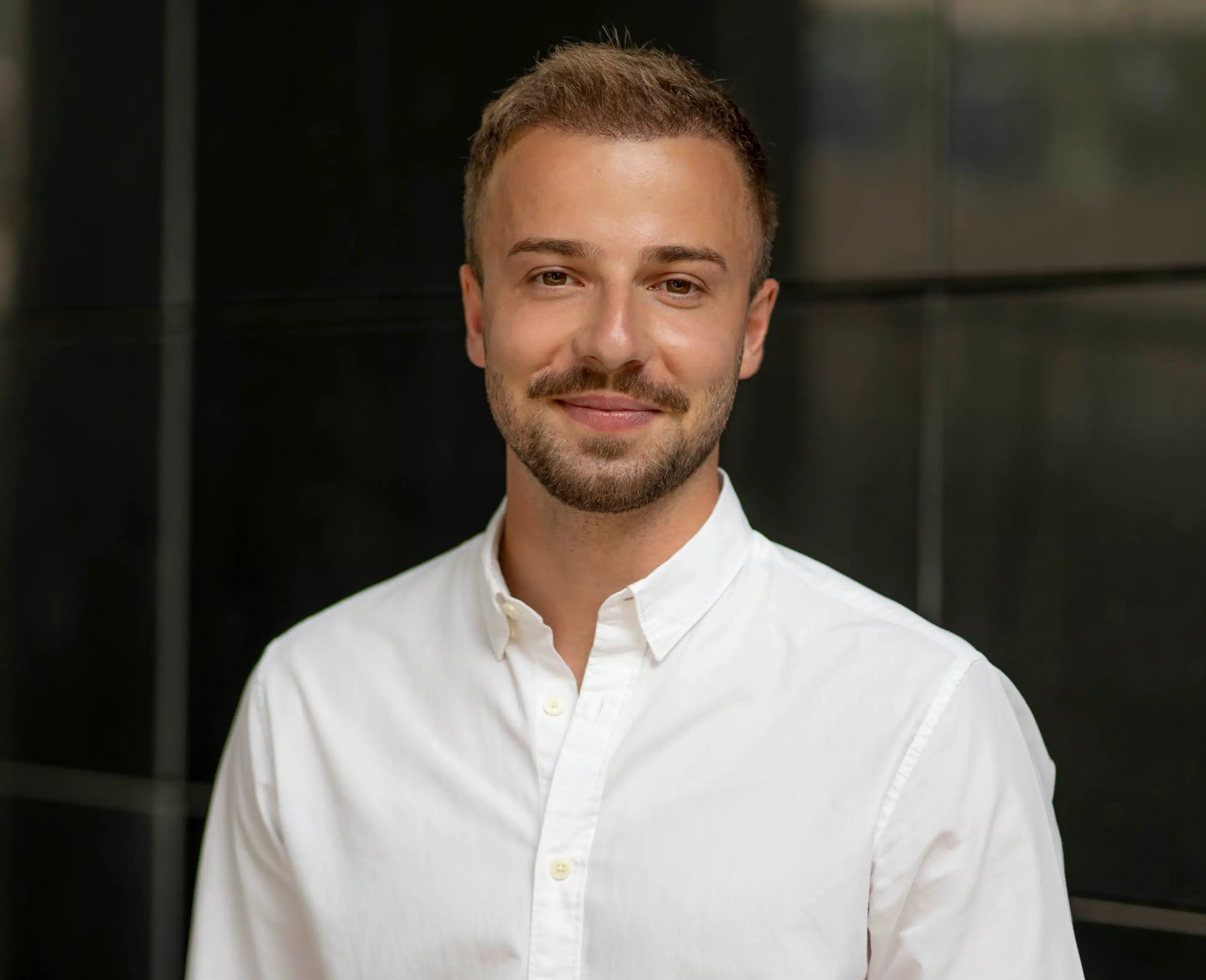 Julian Gerst, CEO of LEAD
We would like to support manufacturing companies with our innovative software to produce more efficiently and sustainably. We rely on digital knowledge management and waste reduction according to the Toyota production system in order to conserve resources and protect the environment in the long term.
A first meeting serves to evaluate together how we can help you to achieve your goals as quickly as possible. As a rule, it includes the recording of the status quo, the definition of your goals, and then a use case-related presentation of our solution. We then assess the potential of a collaboration and define next steps for timely implementation.
Our goal is to support our customers in optimizing their processes and making the best possible use of their production capacities. By using our software, companies can increase their productivity and quality, reduce their costs and save valuable resources.
We are convinced that our solutions can make a significant contribution to the digitization and sustainability of the manufacturing industry.
You have questions? We got answers!
We bought the software, what's next?
We sit down with you and in a small workshop we work out the first processes, which we can digitize meaningfully with OperAID. We will also help you to transfer initial knowledge into OperAID and show you how you can monitor and optimize progress. In this way, we promise to be able to generate added value for you from day 1, which you will feel every day.
For which companies is OperAID suitable?
Our OperAID solution helps every manufacturing company that works on the basis of workstations or machines to design processes qualitatively and efficiently. It is particularly helpful in complex manufacturing processes such as assembly, packaging, injection molding, etc.
How is OperAID different from other software?
- EASY TO USE: Understandable for everyone with symbols, icons and colors. Not overloaded and reduced to the essential.
- AUTO TRANSLATION: Not only the app, but also all user content is automatically translated. Language barriers are a thing of the past in your company.
- PROCESS & MINING: Not only do we help to improve processes through digitization, we also offer tools for process analysis to answer important questions for you: Why didn't I reach my delivery target? Why are slides missing at a workplace? In the future, all your processes will be transparent and offer huge potential for simple improvements!
- ALL-IN-ONE: No overtooling thanks to a comprehensive solution for all levels of production - from operator to manager.
- FAST INTEGRATION: integration in less than one man-day per controller
Can older machines also be connected? (retrofit)
We can connect any type of machine that has a standard controller (e.g.: Siemens, Beckhoff, ABB, ...). For this we use OPC-UA or manufacturer-specific drivers. As long as the machine is not relay controlled, this should not be a problem!
How long does the software integration take?
Without a machine connection, a large number of modules can be used to their full extent after registration. If machines are connected to the system via their PLC, we calculate for each control. We can easily read existing data from the machine via OPC-UA or individual drivers and, to ensure a fast ramp-up, also make it available via UMTS in the cloud. With good preparation on both sides, we promise implementation in less than a man-day.
Do you help with setting up the software?
The software has been designed to be as easy to understand as possible. Of course, our performance does not stop with the integration, we also support you with the initial setup. Within the first 8 weeks, meetings will be held once a week to familiarize all employees with the software and to seamlessly integrate the solution into everyday work.